Register for any of the Mid-South OSHA Training Institute Education Center (OTIEC) classes listed below and receive a $99 discount.
Mid-South is a consortium between Alliance Safety Council and Louisiana State University's College of Engineering. As recognized leaders in safety and education, we are pleased to offer in-demand OSHA courses close to industry and close to home.
---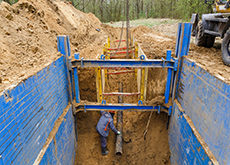 OSHA 3015 - Excavation, Trenching and Soil Mechanics
Learn the OSHA standards and safety aspects of excavation and trenching. Participants learn the principles of practical soil mechanics and its relationship to the stability of shored and unshored slopes and walls of excavations.
Early Bird Price: $500 (regularly $599)
---
OSHA 2264 - Permit-Required Confined Space Entry
July 11 - 13
Increase your knowledge of hazards associated with permit-required confined space entry. Participants will engage in hands-on training with explosion meters and oxygen meters.
Early Bird Price: $500 (regularly $599)